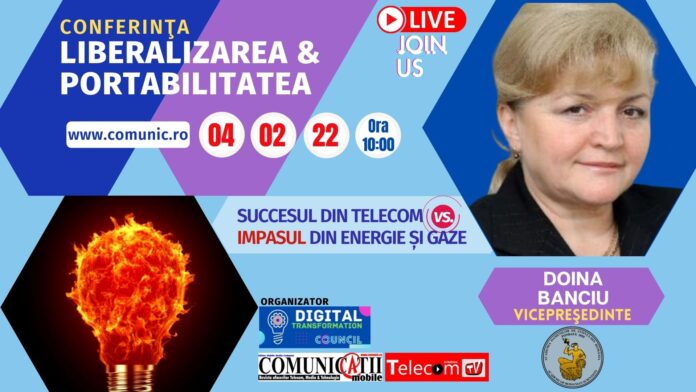 D.na Prof. univ. dr. eng. Doina Banciu, Vice President of AOSR, was invited to participate as VIP Speaker at the Virtual Conference "Liberalization & Portability – Telecom vs. Energy & Gas", on February 4th, organized by Digital Transformation Council, COMUNICAȚII Mobile Magazine and TelecomTV.ro.
She underlined the need for a comprehensive study on the convergence of the Communications, IT and Energy industries in Romania, which would address the technological, economic, social and security implications in a systemic approach. This study can form the basis for decisions on common issues related to the new convergence between Energy and Communications & IT, especially in the crisis that our country is currently facing.
"Both areas are carrying significant financial resources and I believe that in-depth research could benefit both Communications and Energy, but above all citizens.", underlined Prof. Dr. Ing. Doina Banciu during the almost 7-hour marathon conference. The major event of the beginning of the year was watched in the first 72 hours of the launch by over 100,000 users of Zoom, Youtube, LinkedIn, Facebook, Twitter, the Communications industry portal www.comunic.ro, www.telecomTV.ro and 30 other partner websites that have picked up the stream.