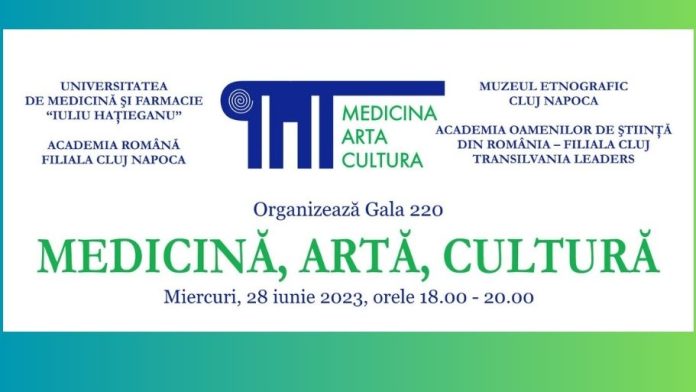 The Ethnographic Museum Cluj Napoca in partnership with the University of Medicine and Pharmacy "Iuliu Hațeganu", the Romanian Academy – Cluj-Napoca Branch and the Academy of Romanian Scientists – Cluj Branch, organizes Gala 220 "Medicine, Art, Culture" on Wednesday, 28 June 2023, from 18:00-20:00, in the Reduta Hall of the Ethnographic Museum of Transylvania.
Presentations will be made by Prof. Dr. Anca Dana Buzoianu – Rector of UMF, Prof. Dr. Marius Traian Bojiță – President of "Transilvania Leaders" Foundation, Prof. Dr. Petru Adrian Mircea.
There will be the launch of the book " Roman Vlaicu – the man, the doctor, the perfect teacher ", will be presented by Vasile George Dâncu – director of "Școala Ardeleană" Publishing House and Prof. Angelo Bulboacă – coordinator and co-author. The moderator of the event is Mr. Prof. Nicolae Hâncu (m.o Romanian Academy).
Afis Medicine Art Culture-GALA220