On 30 March 2018, at the Palace of Parliament, in the Avram Iancu Hall, took place the Debate
"THE UNION OF BASARABIA WITH ROMANIA – AN ACT OF HISTORICAL JUSTICE, A FUNDAMENTAL STEP TOWARDS THE COMPLETION OF THE GREAT UNION", organized by the Romanian Academy of Scientists. The event was attended by representatives of political, diplomatic and academic elites from Romania and the Republic of Moldova, university and pre-university teachers, students and pupils, representatives of civil society.

The debate took place within the broad framework of the political events of 1918 and focused on the following points of interest: the national movement of Romanians in the territories under foreign domination, with special reference to Bessarabia after 1812; Romania's war for the country's reunification and the completion of national-state unity; Bessarabia during the First World War. Political, economic, social, national situation; The achievement of the Union of Bessarabia with Romania: stages, political acts, popular manifestations, events; The significance of the Union of Bessarabia with the Mother Country in the process of the establishment of Greater Romania; International recognition of the Union of Bessarabia with Romania; Historical consequences of the Great Union of 1918.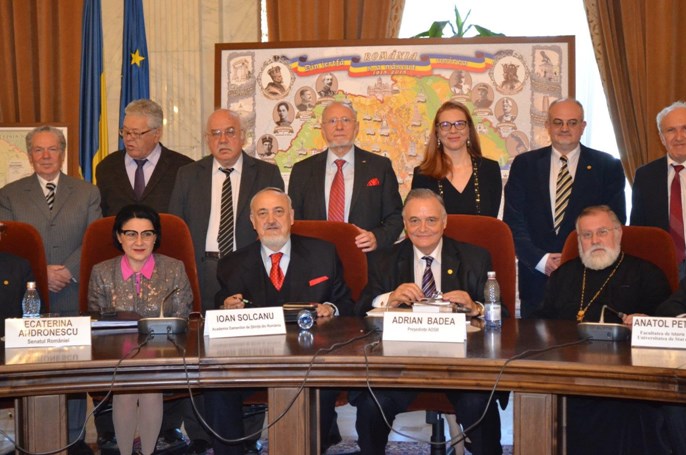 Hosted by Prof. Dr. Ing. Adrian Badea, President of the Romanian Academy of Scientists, and moderators Prof. Ioan Solcanu PhD and Prof. Dr. Anatol Petrencu (Republic of Moldova), the debate was a space for a lively and dynamic dialogue, a substantial exchange of ideas, analyses, interpretations and qualified opinions, based on historical acts, facts and documents, which involved, at the forefront of discussions, prominent historians, diplomats, policy makers and members of the academic community.

In his opening speech, President Adrian Badea stressed that in order to preserve our national identity, young people need to know the history of this country, hence the need for the debate, which is part of a wide-ranging AOSR programme dedicated to the Centenary. The Ambassador of the Republic of Moldova in Bucharest, Mihai Gribincea, said that the colonization policy had elements of denationalization in Bessarabia and that the dismemberment of the territory across the Prut also aimed to erase from the memory of the population the territorial abduction of 1940. Today's Moldova is more divided than Moldova was in 1812. Regarding current relations, Romania is the main trading partner of the Republic of Moldova. According to the Ambassador, in today's geopolitical environment, realism and maturity are needed in thinking and approaching the present and future relations between the two countries.

Ioan Solcanu, president of the Historical and Archaeological Sciences Section of AOSR, said that 1918 signifies not only the union, but the reintegration and reunion of Bessarabia with the motherland. In a historical glance, he spoke about the policy of denationalization of the province started as early as 1812, that the government in Iasi was concerned with the revival of national sentiment in Moldova through the Church and the school, and that, in the direction of school development, it sent teachers to Bessarabia, where there were no rural public schools. Subsequently, the Romanian government made efforts to revive the national spirit in Bessarabia.

Ion Sishcanu (Prof. PhD, Institute of History of the Academy of Sciences, Chisinau) referred to three key issues in the analysis of the union of Bessarabia with Romania in 1918: the decisive role of the Romanian Army in the process, the international recognition of the union and Romania's non-participation in the 1921/1922 negotiations with the Soviets, when the Soviets proposed the recognition of the union under certain conditions and the Romanians refused. Currently, an ideological offensive against the union is taking place in the Republic of Moldova and, under Dodon's patronage, a three-volume History of Moldova has appeared in Romanian, anti-Romanian in attitude.

Historian Petre Țurlea (corresponding member of AOSR) referred to the visit of Romanian parliamentarians to Chisinau in 1993, when it was said that we have "a duty to unite" and said that today, excessive politicking is the element that prevents the reunification of Bessarabia with Romania. In a framework defined by two major questions: "Will Bessarabia be united with Romania?", "When will this union take place?", the approaching moment of reunification depends on all of us.

Ambassador Ion M. Anghel (honorary member of the AOSR) said that the problem of uniting Bessarabia with Romania is part of the broader issue of divided states, that today we are talking about two different states, and that Moldova today is neither Romania nor Bessarabia, and that one explanation for the unresolved situation is that there was no vision for the unification of Romania with Bessarabia.

Patriarchal Advisor on Culture Florin Șerbănescu referred to Trinitas TV's broadcasts in the Republic of Moldova on testimonies about Christianity and spoke about the issue of the Romanian language and mentality in Bessarabia: Romanians who consider themselves Moldovans and Moldovans who consider themselves Romanians, stressing that history, geography and language together form the consciousness of a nation.

Ambassador Constantin Vlad (full member of the AOSR) spoke about the domestic and international dimensions of unification. Internally, the low level of administration, poverty make the union impossible, and externally we must win Europe and America for the cause of unification of Romania with the Republic of Moldova. Romanian diplomacy must also encourage Moldova's European course, as it is necessary to have a foreign policy goal for which politicians and diplomacy work.

Historian Corneliu Lungu (vice-president of the Historical and Archaeological Sciences Section of the AOSR) said that the break-up of the territory from the body of the country was possible because of betrayal and sale by the Great Powers, and the betrayal continued until 1939. According to the historian, Bessarabia's return home depends, above all, on our desire and on the validation of this desire by the political leaders.

Anatol Petrencu, professor at the Faculty of History and Philosophy of the State University of Moldova, said that there is a need for a referendum for reunification, but also for propaganda, to popularize what happened in the interwar period and after, for supporters of national reunification. The situation created by the territorial abduction is a "bleeding wound" for both Romania and Moldova, and we as a nation must follow our interest and advocate for the union of Moldova with Romania within the existing borders, recognized as such by the West.

Professor Ioan Scurtu (full member of AOSR) stressed the fundamental role of the Bessarabian peasants in preserving the Romanian language, traditions and identity in the process of Russification of the population of the territory on the left of Prut. Later, their resistance and attitude would mobilise the political class and the army to achieve the union of 27 March 1918. All acts of unification of Romania were done peacefully, unlike other countries, and the Romanian Army had the historical mission to ensure the existence of the state that was to unite with Romania. Starting from Balcescu's statement (1848): "Unity must be achieved through ourselves", the historian stressed that today political leaders must act in the direction of union, but there is no interest in doing so.

Prof. dr. eng. Ecaterina Andronescu, President of the Chemical Sciences Section of the AOSR, said that we need to look at history and learn from its lessons, to know what to do next, to plan our future. We must cherish our language, our land and our Church, which have preserved our identity throughout history, but which are nowadays damaged. However, it is no more complicated today than it was 100 years ago, when the union took place. Schools play an important role in awakening national consciousness. Romania grants 5000 scholarships annually to young people from the Republic of Moldova, young people being the most active segment in the idea of union. We must not only look for support from outside, we must ask for unity from within. In promoting the union of Bessarabia with Romania, we must also use technology, through internet campaigns and social media. Two messages are of particular importance in the reunification process: support for the unity of the language and land of the Romanians; support for Romanian-language schools in Northern Bukovina.

At the end of the debate, which lasted more than four hours, Professor Adrian Badea, President of the Romanian Academy of Scientists, expressed his opinion that today Romania does not have a country project and that, without political will, nothing can be done. "Unfortunately," said the host of the meeting, "in both countries, too much imposture and lack of preparation have crept into the leadership of important administrative institutions." Professor Badea criticized the fact that, at national level, we do not have clear initiatives, that we do not do enough in the sense of reunification, pointing out that the people who made the union thought and acted coherently in this sense. "I am convinced that the vast majority of politicians love their country, but that is not enough, you must also have the ability to make things work", said the speaker, who finally stressed the need to select people who are able to build a viable and coherent project for Romania.

The conclusions of the discussions will be drafted in the final document Synthesis of the Debate, which will be submitted to the political authorities, disseminated in academic and educational circles and presented to the public. The papers on the agenda of the event will be published in a volume dedicated to the AOSR Debates of the Centenary Year, with the title "THE CENTENARY OF THE GREAT UNION AND THE EUROPEAN BUILDING OF ROMANIA", published by the Romanian Academy of Scientists.

The national debate "The Union of Bessarabia with Romania – an act of historical justice, a fundamental step towards the achievement of the Great Union" is part of the "CENTENARY" Programme of the Romanian Academy of Scientists, organised within the framework of the celebration of one century since the end of the First World War and the achievement of the Great Union. Complex in structure, broad in scope and diversity, dense in academic activities and events, the "CENTENARY" Programme includes scientific events, international conferences, symposia, sessions, workshops, cultural and educational projects, publication of books, proceedings volumes, digital works, projected at national and international level, throughout 2018. For details, please see the AOSR website